Half day tour with an English speaking guide!!  On April 2 ( Sat)
Once a year special opportunity at Ikegami Honmonji Temple
"Gokaicho" – Viewing of unveiled Buddhist Statue
"Sange" – Scattering of flowers from the top of the 5-story pagoda
and if you have luck, you would enjoy the famous cherry blossoms with 5-story pagoda.
Please call or email us now!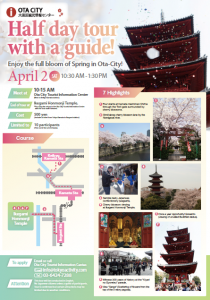 ・Meet at:     10:15  Ota-City Tourist Information Center
・End of Tour:   Ikegami Honmonji Temple
・Cost:   JPY500-
To make reservation, please call: 81-3-6424-7288  or  e-mail to  "info@tokyoactivity.com" with your name and contact.