You can choose one Kimono and accessories from our inventory.  Men's and Children's kimono also can be reserved ahead of time.
Shrine Visit Course –Our staff member will take you to the nearest Shrine to visit.  You may take photos in the Kimono.
Duration: 90 minutes
***The Shrine near our facility just started to renovate their garden, so we are not be able to offer shrine visiting course for a while.  We are sorry for the inconvenience. 
  2. Kimono Course – Enjoy traditional Furisode ( long sleeved kimono )and take photos in the kimono inside the center.Duration: 60 minutes
Note: Kimono will be worn over your clothing. Tank tops and V-necks are recommended. Hair arrangement is not included.
Course are available with English, Chinese, Korean assistance upon request.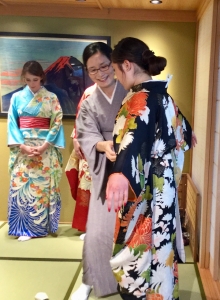 Duration:
1. Shrine Visit Course: 90 minutes
2. Kimono Course: 60 minutes

Fee:
1. Shrine Visit Course: JPY 4500
2. Kimono Course: JPY 3500

Reservation: Required

Please make a reservation at least
3 days prior to your preferred date. We may not be able to accept your reservation depending on the availability. We will contact you via email.